Advertising decoration and writings on vehicles
Advertising cars, vans, motorcycles, trucks
The decoration of motor vehicles and the world of vehicle advertising has been revolutionized in recent years by the entry into the market of large format digital printers (plotters), which allow the production of high quality adhesive films. Since 1960, Microstudio has been designing, printing, applying advertising graphics and stickers for vehicles (cars, motorcycles, vans, trucks, boats, airplanes), we use only top quality films chosen among the best on the market. Graphic design, design in every detail, technical know-how, 50 years of experience combined with the creativity of our Graphic Studio Treviso, allow us to provide everything you need, to make your vehicle unique thanks to an advertising decoration created for hit the mark.
There are various techniques for applying advertising on a car or decorating a company vehicle: these also depend on the bodywork of the vehicles themselves, the dimensions, the moldings they present, the glazed surfaces, for example, are just some of these variables.
In any case, the finishes are carried out paying close attention and without leaving anything to chance: sometimes even part of the vehicle itself is removed (door profiles, bumpers, mirrors) to overlap the adhesive in such a way as to ensure greater stability and durability time.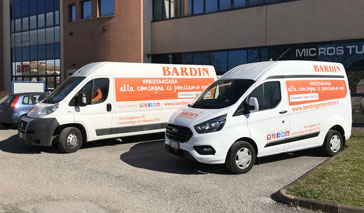 If company that wants to personally take care of the home delivery of the products it sells, needs a fleet of vans decorated with company logos with the right message, in this way it will be easier for the delivery operator to be welcomed and deliver the goods in safety...