The global epidemic called the COVID19 pandemic has made it mandatory for employers to adopt all possible procedures or technical improvements to safeguard the spread of the pandemic virus in all places open to the public!


V | Guard the best Plexiglas protection for parastarnuti (anti sneeze)
Possibility of customization with UV printing, maximum protection for

Reception Desks, Shops, Pharmacies, Tobacconists, Bars, Supermarkets
The anodized aluminum structure allows us to create V-Guard with a height suitable for the environment in which it will be installed, it can in fact support transparent scratch-resistant plexiglass panels up to 3m wide and up to 1.5m high !!!.
V | Guard plexiglass protective screens are available in two models: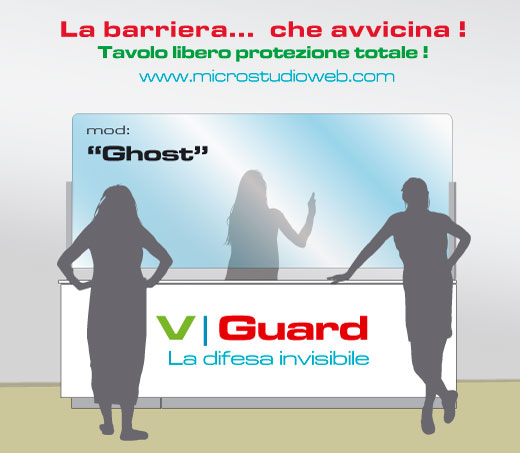 mod:
(Transparent Plexiglass screen, WITHOUT frame around)


MAXIMUM PROTECTION Transparency same to glass and

SPACE SAVING SYSTEM:

Virus | Guard does NOT take up space

on the table or bench on which it rests
, the reason is that its legs are positioned at the left and right ends of the counter, leaving the entire work area completely free!
(

*
Compared to similar systems made only in plex, which resting on the table instead take up a lot of space on it.)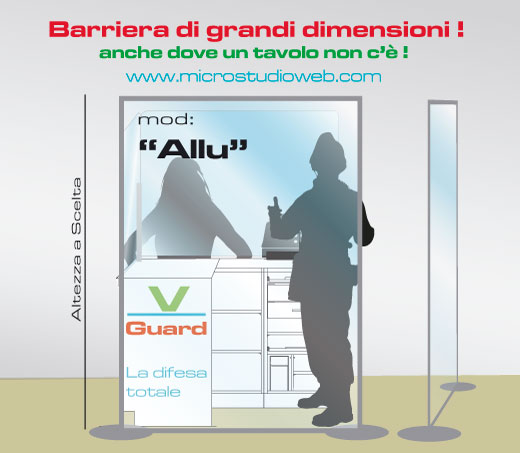 mod:
(with Aluminum frame around and Plexiglass)


V|Guard Allu
it is suitable for doing
large protective panels
for workstations for
LABORATORIES INDUSTRIES
the perfect solution for the
WORK STATION REGULATION:
There are in fact work areas which by their nature do not allow the distance between operators required by regulations, V | Guard can
be specially built
for separate workstations, the
plexiglass pannel
they can in fact arrive at 2,5mt/3mt.

The length? Not a problem, V | Guard can be paneled in 1mt elements, or infinitely modular!
Application example for use of transparent virus protection V|Guard

mod:

GHOST without upper and lower frame !


Esempio di impiego della Versione con telaio in Alluminio con Plexiglass di grandi dimensioni
MESSA A NORMA POSTAZIONI DI LAVORO - V|Guard "Allu"

Microstudio, Production and Sale of customized aluminum-Plexiglass protective barriers