Vespa Piaggio opaque camouflage print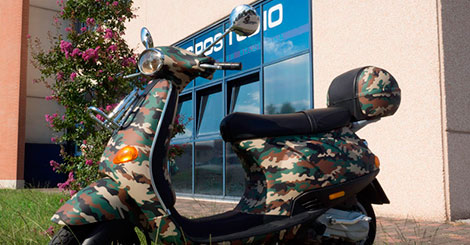 Car Wrapping
It was a normal day of work,
the phone rings, "Microstudio Buongiorno",
at the other end of the phone a voice, it was a young woman, it was euphoriaing,
slowly I begin to understand, says he is about to get married and would like to give the future husband a dream ...
what happened then can be summarized as follows:
A couple goes on their honeymoon,
nothing strange, something common,
but on his return two weeks later, he goes to the garage to go on a vespa to work ...
What he does not know and could not imagine is that the little wife,
he had hired us to requisition, together with his brother, the wasp and transform it into a single piece!
The result is now under your eyes, a normal and anonymous gray wasp has now become an object to be exhibited and jealously guarded,
for the transformation, once the typology of the camouflage stains was chosen, we printed and applied the opaque laminated film on the plastic of the wasp,
every detail has been taken care of with patience and expertise, the camouflage scooter is now ready to become the most beautiful gift!
First the amazement, until then the awareness that that camouflage wasp in his garage is his own,
already the plate corresponds ...
What more to say, congratulations to the couple together with their camouflage wasp.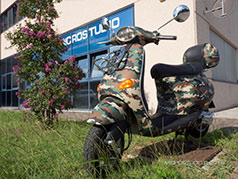 © Microstudio