Reservation Banners road to Treviso City | Veneto | Italy
The advertising banners, in this case road banners, require for their installation in all the cities of Veneto, an authorization by the Municipality or the competent body (ANAS, Veneto Strade, Province, Municipalities, etc.).
At Microstudio, since 1960, we have dealt with the procedures necessary for obtaining authorizations, for the installation of advertising banners.
As far as the Municipality of Treviso is concerned, authorizations and bookings are managed by a dedicated office at the Municipality.
But no fear we work daily, to book on your behalf, the best seats available.
Send us a request by filling out the availability and booking request form, then we will take care of everything!
Richiesta Preventivo Striscioni
Mappa posizioni striscioni Città di Treviso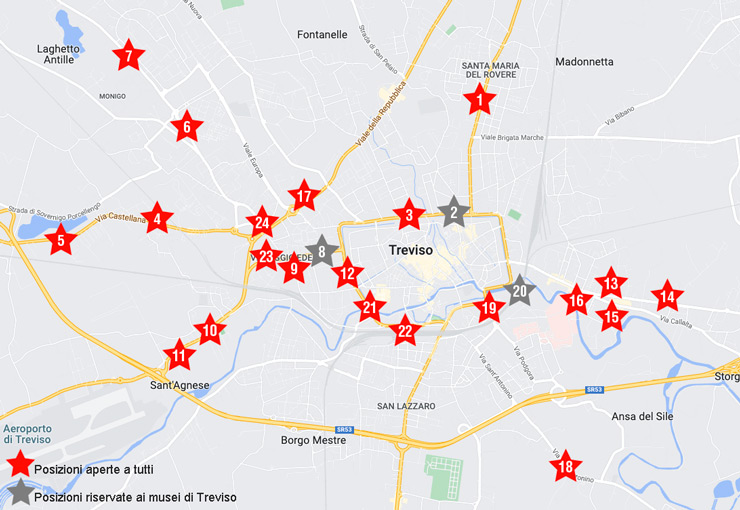 Road Banners | Graphic design, production, installation, removal
Our production of road banners has its strong points in materials, in high resolution printing systems and in the constant search for perfection; resistant, aesthetically appealing, are just some of the features that distinguish the advertising banners we installed, almost 60 years of experience, allow us today to produce advertising banners with ropes and stakes, beautiful, always visible long distance and secure.
Safe, secured road banner
Each of our road signs, from the time of installation (if installed by us), is up to its removal, insured for damage to third parties and as aesthetics also want its part all our road banners have sleeves (which contain the stakes to which the ropes are fixed) in the same color as the cloth. The perfect tension is guaranteed by an elastic system, carefully studied, which allows the installation of banners always with the right tension, one more reason to choose the quality of our road banners.