Bright Advertising Totem - Giorik spa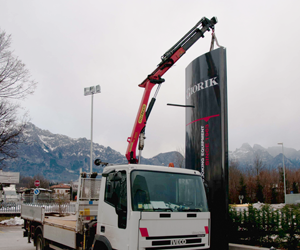 Advertising Totem (6 meters x1.90 meters), impressive, elegant and bright, this Totem was made with a supporting structure in galvanized steel then covered with side bars and aluminum panels.
LED Bright Advertising Totem
The sides were decorated in AVERY 900 film applied to 3 mm alucobond sheets (aluminum and polyethylene composite).
The upper part of the totem (the writing Giorik and the red line) were made bright using opal polycarbonate, so as to make it more visible during the night. LED lighting has allowed us to create a structure with a high visual impact without compromise!
Advertising Totem Production and Installation
Microstudio produces, installs Advertising Totems of any size and height.
© Microstudio